This yearís SXSW festival kicked off with the latest offering from director Robert Altman, based on one of the longest-running radio shows of all time of the same name. Altman collaborates with screenwriter and the voice of ďA Prairie Home CompanionĒ radio show, Garrison Keillor, as the famed NPR (WLT in the movie) variety show is getting axed after the station was bought out by a Texas corporation (represented in the movie by Tommy Lee Jones). As usual with Altmanís more modern work, you have a sizeable cast of big names and familiar faces. Lindsay Lohan performs the Altman style well enough I suppose, but she still canít sing worth crap. Altman once again achieves his realistic, casual cinematic style with lots of cross-talk and chatty banter. I really enjoyed the theatrical setting, especially the events backstage. Save for Lohan, the music and singing by the principals is all exceptional. Speaking as someone who was not familiar with the radio show before seeing the film, it still has an interesting and charming appeal to it. I really feel this film has potential to do gonzo business in middle-America, an audience Hollywood usually ignores altogether or really doesnít know how to deal with.
A Prairie Home Companion: the Interview with John C. Reilly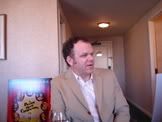 On Friday, March 10, the first day of the SXSW film festival, me and a group of other reporters got first crack at the new Robert Altman film, A Prairie Home Companion. After the screening we were allowed to participate in a roundtable interview session at the Four Seasons Hotel with Academy Award-nominated actor John C. Reilly, one of the featured players in the film.
Once again, I will mark the questions that I asked as "Hybrid."
John C. Reilly: So everyone saw the movie this morning?
Hybrid: Yes, at the Drafthouse downtown.
JR: Cool.
So are you going to be on the actual [Prairie Home Companion radio] show?
JR: Well, yeah, Garrison invited me. I don't know, I haven't heard. I'm just doing a few events for the film... I hope, it was a lot of fun being out there with those guys.
Were you already a listener of the show?
JR: Yeah, I've been listening to it for about twenty years.
Really?
JR: Yeah. And it's been on thirty years, right? So yeah, I just couldn't believe it. I was doing "Streetcar Named Desire" on Broadway at the time, and Bob called me and asked me to do this. I actually started the day after I finished "Streetcar." I got on a plane and started this movie the next day. Big change, a lot of fun. The musicians that he has up there are some of the best in the whole world.
About the theatre set in the movie?
JR: It's actually not a movie theatre. It's an actual theatre... The Fitzgerald. They tour all over the world, but when they're at home, that's where they do it.
Hybrid: What was your prep-work and training like for the film? We already know you can sing—great.
JR: Well I've been playing guitar for many years too. So it was just a matter of brushing it up. As I was finishing the play there I started playing more guitar. I actually bought that guitar for the role. It was great shops in New York that sell used guitars.
How much was it?
JR: It wasn't expensive. I don't remember, it was about... whatever. Who's expense? It's like a nice '42 Gibson, beautiful old guitar. The guys in the band were totally like lecherous towards it. Yeah.
Hybrid: Had you worked with Robert Altman before this movie?
JR: No. I had met him a couple times because he's friends with Paul Anderson who I've worked with a bunch of times. And there's where I first met him socially, we hung out a couple times.
Hybrid: I actually heard that Paul Thomas Anderson was working on standby (for this movie)?
JR: Yeah the insurance company required someone to be there in case Bob couldn't make it to work. And luckily that never happened so Paul ended up being the "I'm the assistant director guy." I was really happy to have him there. He's my closest friend, so...
Hybrid: Altman is really just amazing. He's in his 80s and is still making movies, regularly. Did that leave an impression on you at all, his work ethic?
JR: Well yeah. It's sort of a lack of a work ethic actually that you're impressed with. We don't start until the crack of dawn, we had this luxury because we were shooting indoors the entire time, but Bob creates this great atmosphere on his movie sets where you really can't make a mistake. Everything's okay. Even though it feels a little bit like no one knows what's going on. You eventually just surrender with it. You're like "Okay. We're gonna do the scene." You talk with him a little bit, maybe run through the lines one time and then all of the sudden this camera is roving around you, you don't even know where it is half the time, and Bob is totally enthused and happy with what you're doing so you... fumble your way through. It's amazing, amazing the way he covers it all, a lot of people moving around talking at once.
How much did you actually improvise?
JR: Hard to say because Garrison was there for adapting the script to what was going on, but mostly it was just kind of on the edges of scenes for me and Woody [Harrelson]. Pretty much the movie, even though the timeline's not exactly the same as the script was, is pretty much what Garrison [Keillor] wrote. Of course my... whole thing was made up out of improvising the moment, like whole scenes or whatever. It was a pretty tight schedule too actually. We shot in a month the whole film. In and out of there.
Hybrid: Does Altman ever ask for your input or to give input on how you perform for your character? Or is it, do everything that he tells you?
JR: No... it's all your responsibility. I think you know that's some of the best directors I've worked with, working that way. They think picking the right person, that does most of the work. And then they give you a lot of freedom to create it because that's why they picked you, you know? So yeah, Bob was totally open—I mean me and Woody would pitch him crazier and crazier ideas and he didn't say yes to all the ideas.
Hybrid: So he's like a good filter?
JR: I don't know... he's kind of like a ring leader of a circus with all kinds of different, crazy things going on. As long as [it] was in the ballpark of what he wanted.
Were you surprised with how the end product came together? Did you have some kind of unease?
JR: Well, the script was written in a very stream-of-consciousness kind of way. You know you're sort of traveling along like the movie is. When you read the script you know what you're getting into. And it was scary sort of like the number of people moving around. But like I said, I trusted Bob, and I can't be surprised the movie worked because I'm a huge Robert Altman fan, I have so much belief in him I knew it would be something interesting.
About marketing the film to The Passion Of The Christ audience? For people who don't usually go to films? What do you think about that?
JR: *chuckle*. I don't know, I'm by no means a marketing genius because my tastes don't often reflect what makes a lot of money. But personally I don't know that there's a Passion Of The Christ audience. I think it was just a cultural moment with a lot of different groups of people, I mean my mom saw The Passion Of The Christ and she really liked it and we grew up religious, but at the same time she's a total movie buff too, like in the age of DVD and cable, like you don't have to live in Austin to be an indie film fan. Know what I mean? I think the movie just has kind of a wide appeal because the bones of the story, what happened, is about a show. That alone, you're going to see a show. And there's jokes, a lot of different actors you know from over the years, it has kind of a variety show element to it as a film experience. On that level I think people will find it interesting...
Hybrid: Did you have a lot of theatrical background and experience growing up? Did you do it in high school and college?
JR: Yeah, I just finished "Streetcar" last year, I was doing it. It's something that's really important to me. I go back as often as I can to kind of balance my feasibility of doing theatre. Yeah I grew up doing it from the time I was about eight or nine, did a lot of musicals. It's important to me. I don't really see a huge difference between film acting and theatre acting to tell you the truth. It's kind of the same process for me, just different size audience really.
Garrison Keillor working with Robert Altman? Altman doing someone else's project? Did he have to give anything up?
JR: I suppose he had to hold his tongue every now and again only because Garrison is really the center of that show. I mean people wonder how can that show be going on for thirty years. Well it's because Garrison is pushing, pushing, pushing it. And it's his world view that shapes the whole. But Robert Altman's no slouch either so even though Garrison's there, he's still running things on stage, this big presence out in the house, shaping the movie. And I really admired the way the two of them managed that. These two old masters you know? And Garrison did his thing, understood that world and how to make all that stuff of the quality control of how the show was portrayed. And that left Bob to his side of it. I don't know, there's a lot of similarities to them in temperament and background, in terms of the work environments they create, sort of like controlled chaos with a lot of different people all contributing at the same time. They both do it so, I think there must have been recognition between the two of them.
Incorporating all your mannerisms and character gestures? Any stories with any of the actors in the movie?
JR: *laughs*. Well there's a lot to do as a cowboy, there's all kinds of gear. I spent the whole time—Once I'm there at work, I want to be in my costume, I don't like hanging around too much. I want to present the thing I am on the project. So I end up wearing those chaps and that whole outfit all the time. And there's something about chaps, let me tell ya. There's a magic to chaps, with the ladies. I normally don't get that kind of attention so much. But you put on a pair of chaps, people notice. People definitely notice. There all kind of photos taken of me from behind, I don't know what that's about... the costumer gave me the whole costume. I rarely keep costumes from movies, but this one was so much fun to wear. And when you're a kid those are the... you want to be a GI JOE, you want to be a cowboy... it's one of those fantasy kind of parts. And walking up and down the streets with Woody dressed as cowboys, it's pretty funny. It was a lot of fun. And then we started competing with gags, you know with Kevin Kline there who is like this shameless ham, and like try to keep up with the level of nonsense that he's doing. So I started doing the rope tricks. Are those still in the movie? [Yeah.] I can do the big one all around and everything, but that was a lot of fun. A new skill I learned on a movie.
Hybrid: You've worked with so many great directors already, is there any you haven't worked with you'd like to work with next?
JR: Lots of them. All the good ones. Make a list of all the good ones and those are all the ones I want to work. It's funny, I was doing "Streetcar" I was thinking what next film job that I get, or who do I want to work with so I sat down and made this list of names of directors who I thought were really great and I hadn't worked with before, and the first one I wrote down was Altman, I think I got maybe five or six more. And two days later he offered me the part of this movie. So that was pretty funny. I should look for that list and see who was second because maybe that's the next thing I'm going to be doing. I've always wanted to work with Terry Gilliam actually. He's one of those all-time greats in my book. But there's so many, so many. A lot of younger people coming up now I'm really excited to see.
In addition to A Prairie Home Companion, John C. Reilly will also be appearing in Talladega Nights with Will Ferrell as a "nascar driver" later this year.
—Jeffrey "The Vile One" Harris